| | | |
| --- | --- | --- |
| Contact | Phone Number | Location |
| IT Help Center | 276-739-2500 | LRC 131 |
| Book Store | 276-739-2504 | OTC 117 |
| Campus Connection Center | 276-739-2438 | ISC 133 |
| Campus Police (cell) | 276-614-8282 | ISC 151 |
| Financial Aid | 276-739-2463 | ISC 133 |
| Business Office | 276-739-2543 | ADM 121 |
| Library | 276-739-2472 | LRC 121 |
|   |   |   |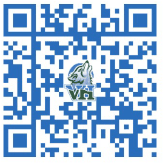 Scan to submit a Helpdesk ticket
Tips from the Help Desk
Check your email and Canvas regularly.
Keep your personal contact information up to date in SIS.
When contacting IT support, if you know your username or EMPLID, please have it ready with a pen or pencil.

When leaving a message, please speak slowly and leave your name, username or EMPLID and phone number.